PAROSL Collaborators
If you'd like to learn more, please contact the head of PAROSL working group Glory Tobiason (tobiason@cresst.ucla.edu).
We are
UCLA CRESST
, a national research center at the forefront of educational innovation. The groundbreaking work we do in assessment and evaluation has shaped the very fabric of our field. Our intellectual curiosity and passion for learning continue to drive it forward. This is where you will find methodologies and technologies that are solving today's most pressing challenges and improving the quality of education across the globe.
UCLA's Center for the Advancement of Teaching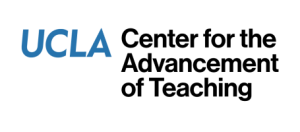 (CAT) provides multiple services, resources, and programs to enhance and support teaching excellence, innovation, and inclusivity. These include a grant program for curricular innovation; pedagogical development of faculty and graduate students via workshops and learning communities; strengthening of TA training campus-wide; educational technology software and lecture capture; classroom technology and furnishings; and analytics and assessment for curricular and institutional improvement efforts. CAT also works to enhance the valuation of teaching in the academic personnel process and foster a culture of effective teaching and learning as institutional priorities.

The Center for Education Innovation & Learning in the Sciences (CEILS) serves as a clearinghouse for the education tools and assessment resources instructors need to engage in effective, validated teaching practices that promote student learning, create inclusive and culturally-responsive classrooms, and retain students in Life and Physical Sciences majors. CEILS fosters the professional development and training of faculty who wish to incorporate evidence-based teaching approaches into their courses.