Small Changes, Big Impact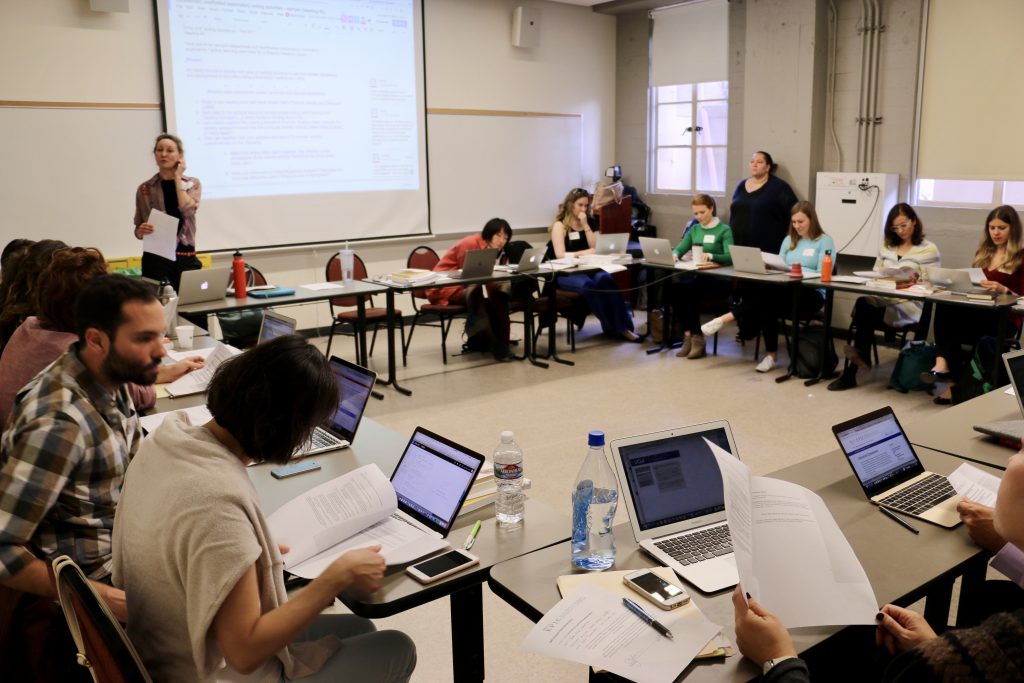 Small Changes, Big Impact Workshop
Small Changes, Big Impact Workshop Series
Small Changes, Big Impact (SCBI) is a set of workshops on inclusive and equitable teaching practices that have also become one of EPIC's signature inclusive teaching initiatives. See below for our past workshops on a range of topics.
TILT Discovery: February 2019
Transparency in Learning and Teaching (TILT) focused on how and why students learn course content. This workshop introduced instructors to the TILT method through small but impactful interventions on assignment design. Workshop participants revised low-and high stakes assignments that promote equity and student accountability for their own learning.
TILT Deep Dive: May 2019
Focusing on relatively small modifications to course design, this workshop helped instructors reconfigure an entire course using the TILT method. Workshop participants learned to revise a syllabus and develop a set of informal tools to check for student progress while empowering students to assess their own mastery of course materials.
UDL Discovery: February 2019
Universal Design for Learning (UDL) empowers students from diverse backgrounds to actively participate in their courses and more effectively interpret and apply their learning in a collaborative setting. This workshop is to learn the fundamentals of universal design for higher education and develop a set of five best practices.
UDL Deep Dive: May 2019
Workshop to discuss how to redesign a high and low stakes assignment so that they align with best practices for students, especially transfer and historically underrepresented undergrads, in public research universities.
Assessment Discovery: February 2020
SCBI Discovery workshops are designed to provide an overview of best teaching practices for each of the equitable teaching approaches we feature. The Assessment Discovery workshop provided participants with an interactive experience and an introduction to common assessment techniques in the Humanities, including: rubrics, peer review, essay feedback, rubric design, and student evaluation. Participants also explored novel assessment techniques for intrinsic and extrinsic motivation, including self-directed feedback, real-time feedback, and use of A/V tools for multimodal feedback, and gamification. Finally, participants were given the opportunity to refresh one assessment piece and left the workshop with a toolkit for modifying assessment practices in the future.
Transparent Teaching for Equity, Diversity, and Inclusion: March 2020
The Transparency in Learning and Teaching (TILT) Workshop, in collaboration with Associate Dean of Diversity and Inclusion, Jenny Sharpe, allowed faculty to make small but impactful changes to their assignment design for achieving transparent teaching, a proven approach to instilling self-confidence in and ensuring the success of historically underserved and underrepresented students.
Language Instruction Ask Me Anything (AMA): May 2020
As a way to maintain a community around teaching during the challenging transition from in-person to remote teaching, EPIC hosted an informal gathering for language instructors. Led by Dr. Gyanam Mahajan, one of EPIC's new faculty leaders and lecturer with the Asian Languages and Cultures Department, our goals were to provide a space for language instructors to gather and ask burning questions on remote language instruction. Participants were able to send questions on remote teaching in advance of the event. We then curated the questions and those that were most asks were then answered by Dr. Mahajan during a live Zoom session. Participants were also given the opportunity to ask additional questions and to discuss the challenges they've encountered during the quick transition to remote teaching.
Becoming an Anti-Racist Language Educator: January 2021
This workshop, led by Dr. Mahajan, engaged language educators in reflecting on their own experiences and perspectives on BLM and related social justice issues, and provided a guide to inclusive and sensitive pedagogy to use in a foreign language classroom. The workshop was divided into three main parts: Acknowledging BLM, Anti-Racism and Allyship, and Activism and Action.
Clipping a Clip: How to Embed Short Clips to Lecture Notes: March 2021
Andrew Jessup, the Lab Operations Coordinator of UCLA Humanities Technology, led this workshop to help instructors learn how to use Adobe Premiere Rush in order to edit video clips and embed them in lecture notes or PowerPoint presentations. Participants learned about video editing, how to add voiceover to clips, and even how to do picture-in-picture.
Improvising the Classroom: Multimodal Strategies for Active Learning: October 2021
This workshop was designed for instructors who wish to incorporate active learning activities to help students achieve their learning outcomes and create a more engaging learning environment. Drawing on theories of Universal Design Language (UDL) principles–a pedagogical framework founded on principles of accessibility and inclusion–workshop participants were introduced to different strategies for active participation that can be easily implemented in class with minimal preparation either synchronously or asynchronously. Access a recording of the workshop here.

Using Video to Enhance Classroom Learning: February 2022
This workshop was designed for instructors who wish to incorporate video and other forms of media in their teaching. Participants learned how to supplement existing course content by incorporating video, as well as give students more opportunities to create media for their assignments, help build upon their background knowledge on a topic, and promote critical thinking in content-related activities. The workshop also demonstrated language classroom video activities for language instructors specifically and showed how they can be used in the three modes of communication. These strategies drew on theories of active learning, universal design for learning (UDL), and Task-Based Language Teaching (TBL). Access a recording of the workshop here.